Where We Work: Volunteer Opportunities
NATIONWIDE
Where do we work? What are our volunteer opportunities? Check out the Poblo International Ministries that are across the country. Find an area close to you where you can take advantage of volunteer opportunities. For further information, contact us.
Michigan
Dearborn, Michigan has the highest proportion of Arab-Muslim-Americans in the country: over 40 percent of the city's population. The Islamic Center of America, the largest mosque in North America, is in Dearborn. The percent of Michigan's population that report Arab ancestry is approximately 2 percent, compared to 1.2 percent in 2000. Foreign-born immigrants comprise more than 6 percent of Michigan's population. There is also an increasing number of refugees from places like Iraq and Syria who now call Michigan home. For these reasons, Michigan serves as the base for POBLO's operations. With the high concentration of Arabs in Dearborn and the greater Metro Detroit region, outreach opportunities among Muslim immigrants and refugees are endless.
In Michigan, POBLO missionaries are sharing the Gospel with Muslims and other unreached groups one-on-one, in Bible studies, and through an Arabic radio station that broadcasts Christian messages across the U.S. POBLO missionaries disciple, encourage, and counsel Muslim converts and others interested in Christianity. There are five International Friendship Centers in Michigan that — in partnership with volunteers from local churches — provide English and sewing classes to immigrants and refugees in the community. POBLO also provides refugee resettlement services; citizenship classes; food, clothing, and furniture distribution; and friendship & hospitality to those in need. POBLO is also supporting persecuted converts in Michigan.
POBLO Missionaries, Sarah Christian and Joy Markus
POBLO Ambassadors, Rev. Amer Mehdikhan
Minnesota
Minnesota's foreign-born population has increased dramatically in recent years, with an influx of immigrants from Somalia, Laos, and India, among other countries. Nearly  100,000 refugees have come to Minnesota over the past three decades, and the state is home to the largest population of Somali Muslims in the U.S. As of 2011, more than 7% of the state's population was foreign born, and in 2006, Minnesota became the first U.S. state to elect a Muslim representative to Congress. 80% of the foreign born population is concentrated in the Twin Cities region, where POBLO's Minnesota missionaries are based.
In Rochester, Minnesota, POBLO missionaries and volunteers are involved in missions and community engagement through various efforts. Volunteers teach English, sewing, and computer skills to immigrants and refugees at two International Friendship Centers. Citizenship classes are also offered. Missionaries John & Mariam Gayed, together with a group of volunteers, are connecting people from many countries to Bible study and worship as they share the Gospel message. They also provide food, clothing, and furniture to refugees in need.
Missionaries, John and Mariam Gayed
Missionaries, Nader and Georgette Alaraj
Wisconsin
There are more than 250,000 immigrants in Wisconsin — nearly 5 percent of the state's population. The majority are from Asian and Latino countries, including Iraq, Somalia, and Laos. Wisconsin boasts the third largest Hmong population in the U.S., many of which came as political refugees from Laos in the 1980s and 1990s.  Laotian Hmongs are the largest ethnic group in the state. More than 4.5 percent of registered voters in Wisconsin are immigrants or children of immigrants.
In Wisconsin, missionaries Praveen Manuel and Ebou Faye engage in evangelism and community outreach among immigrants and refugees primarily from South Asia and North Africa. There are three International Friendship Centers in Wisconsin, where volunteers provide English and sewing classes as a way to reach out in the community and connect with new Americans. Missionaries distribute food, clothing, and household items to at-need refugee families and provide refugee resettlement assistance. They also engage in street Evangelism and provide Bible studies and discipleship for new Christians.
POBLO Missionary, Ebou Faye
POBLO Ambassador, Rev. Wayne C. Schroeder
---
Missouri
In Missouri, growth in immigrants has been dramatic. In 2009, the foreign-born population of Missouri was 212,900 or 3.6 percent of total population.  Bosnians were the largest group that entered the United States under the status of refugees, with over 19,000 people. A significant number of these refugees settled in the city of St. Louis, and over time obtained first their permanent residency and later U.S. citizenship. This number, though significant, may not be as large as it was estimated. Over the years, estimated number of Bosnians (Muslims) in St. Louis reached 70,000+.
The largest denominations by number of adherents in 2010 were the Southern Baptist Convention, the Roman Catholic Church and the United Methodist Church. Among the other denominations there are approximately 93,000 Mormons in 253 congregations, 25,000 Jewish adherents in 21 temples, 12,000 Muslims in 39 masjids, 7,000 Buddhists in 34 temples, 7,000 Hindus in 17 temples, 2,500 Unitarians in 9 congregations, 2,000 Baha'i in 17 temples, 5 Sikh temples, a Zorastrian temple, a Jain temple and an uncounted number of neopagans.
POBLO's ministry in St. Louis, Missouri is led by Ambassador Rev. Duane Maas and missionaries Hady and Vicki Matta. POBLO has helped to establish two International Friendship Centers in St. Louis, where volunteers teach English, sewing and citizenship classes. POBLO missionaries are creating opportunities to also share the Gospel message with the unreached in Missouri.
POBLO Missionaries, Hady and Vickie Matta
POBLO Ambassador, Duane Maas
Nebraska
Nebraska's immigrant population comprises more than 6 percent of the state's total population, with an increasing number of immigrants from Asian and Latino countries. Over 3 percent of Nebraska's registered voters are new Americans — immigrants or children of immigrants. Omaha's Muslim population is estimated at around 6,000 and is growing due to the increasing numbers of refugees and those arriving for jobs. Other cities with Muslim populations include Lincoln, De Moines, and Sioux City. Nebraska's Muslim population is becoming increasingly diverse, with Muslims from over 20 countries across the Middle East, Africa, Asia, and Europe.
POBLO has helped to establish two International Friendship Centers in Omaha, where volunteers teach English, sewing, and citizenship classes. Our outreach also includes food, clothing, and furniture distribution; friendship and hospitality, and street Evangelism — where missionaries meet and befriend new Americans. By sharing the love of Jesus in practical ways, POBLO missionaries are creating opportunities to also share the Gospel message with the unreached in Nebraska.
Texas
Texas is the 14th most Christian state, with more than 53 percent of Texans identifying themselves as members of a Christian religion. Less than 50 percent of the U.S. population can be identified as Christian adherents, and that Islam is the second-largest religion in Texas and fastest-growing in the nation.
​
Houston is home to a significant number of Muslim Americans. As of 2012, it has the largest Muslim population in Texas and the largest Muslim population in the Southern United States. In 2000, there were over 41 mosques and storefront religious centers, with the largest being the Al-Noor Mosque (Mosque of Light) of the Islamic Society of Greater Houston (ISGH).  The University of Houston also has a separate student organization for Sunni Muslims and Shia Muslims. As of 2014, the Houston area had about 50 halal-certified restaurants. Houston has some restaurants which, during Ramadan, serve iftar meals to families who are too busy to cook.
POBLO Missionary, Julie Aftab
POBLO Ambassador, Rev. David Cecil
---
California
Upcoming…
POBLO MIssionary, Yasmin Bhatti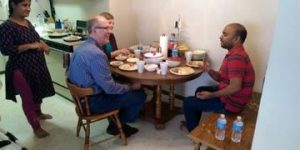 Iowa
Upcoming…
POBLO Ambassador, Tim Bickel
Indiana
Upcoming…
POBLO Ambassador, Deen Albert
South Dakota
TBD
TBD