Where We Work: Volunteer Opportunities
NATIONWIDE
Where do we work? What are our volunteer opportunities? Check out the Poblo International Ministries that are across the country. Find an area close to you where you can take advantage of volunteer opportunities. For further information, contact us.
Michigan
Clinton Township, Michigan serves as the main location for POBLO International Ministries' operations due to its large population of Muslims and other immigrants and refugees. The state of Michigan has the greatest population of Arab-Muslim-Americans in the United States, as well as the largest mosque in North America. Michigan's population of immigrants and refugees are increasing rapidly, giving us limitless opportunities to reach the immigrant and refugee population and share the Gospel with them.
In Michigan, we not only share the gospel, but we also have programs set in place to help the immigrant and refugee population thrive in America. Some of our volunteer services in Michigan include: counseling, supporting persecuted converts, helping with refugee resettlement assistance, cultural assimilation, and more. We also have five International Friendship Centers where missionaries and volunteers teach English, citizenship, and sewing classes. Learn more about our ministry in Michigan and how you can volunteer.
POBLO Missionaries, Sarah Christian and Joy Markus
POBLO Ambassadors, Rev. Amer Mehdikhan
Minnesota
In Minnesota, POBLO's missionaries are based in Rochester and around the Twin Cities region, where majority of the immigrant and refugee population is located. In recent years, we have noticed a measurable increase of immigrants from Somalia, Laos, and India — making Minnesota the state with the greatest population of Somali Muslims in the United States.
There are two International Friendship Centers located in Minnesota, where volunteers and missionaries offer classes to help teach the foreign-born population English and skills, such as sewing, to help them find jobs in the United States. Learn more about our ministry in Minnesota and how you can volunteer.
Missionaries, John and Mariam Gayed
Missionaries, Nader and Georgette Alaraj
Wisconsin
There are more than 250,000 immigrants in Wisconsin — nearly 5% of the state's population. The majorities are from Asian and Latino countries, including Iraq, Somalia, and Laos.  Wisconsin boasts the third largest Hmong population in the U.S., many of which came as political refugees from Laos in the 1980s and 1990s.  Laotian Hmongs are the largest ethnic group in the state. More than 4.5% of registered voters in Wisconsin are immigrants or children of immigrants.
In Wisconsin, POBLO missionary Ebou Faye engages in evangelism and community outreach among immigrants and refugees primarily from South Asia and North Africa. There are three International Friendship Centers (IFC's) in Wisconsin, where volunteers provide English and sewing classes as a way to reach out in the community and connect with new Americans.  Ebou along with volunteers distributes food, clothing, and household items to at-need refugee families and provide refugee resettlement assistance. They also engage in street Evangelism and provide Bible studies and discipleship for new Christians.  Contact us today to learn more about our volunteer jobs in Wisconsin.
POBLO Missionary, Ebou Faye
POBLO Ambassador, Rev. Wayne C. Schroeder
---
Missouri
In Missouri, growth in immigrants has been dramatic. In 2009, the foreign-born population of Missouri was 212,900 or 3.6 percent of total population.  Bosnians were the largest group that entered the United States under the status of refugees, with over 19,000 people. A significant number of these refugees settled in the city of St. Louis, and over time obtained first their permanent residency and later U.S. citizenship. This number, though significant, may not be as large as it was estimated. Over the years, estimated number of Bosnians (Muslims) in St. Louis reached 70,000+.
The largest denominations by number of adherents in 2010 were the Southern Baptist Convention, the Roman Catholic Church and the United Methodist Church. Among the other denominations there are approximately 93,000 Mormons in 253 congregations, 25,000 Jewish adherents in 21 temples, 12,000 Muslims in 39 masjids, 7,000 Buddhists in 34 temples, 7,000 Hindus in 17 temples, 2,500 Unitarians in 9 congregations, 2,000 Baha'i in 17 temples, 5 Sikh temples, a Zoroastrian temple, a Jain temple and an uncounted number of neopagans.
POBLO's ministry in St. Louis, Missouri is led by Ambassador Rev. Duane Maas. POBLO has helped to establish two International Friendship Centers in St. Louis, where volunteers teach English, sewing and citizenship classes. POBLO missionaries are creating opportunities to also share the Gospel message with the unreached in Missouri. Contact us today to learn more about our volunteer jobs in Missouri.
POBLO Ambassador, Duane Maas
Nebraska
In Nebraska, the cities with the largest immigrant and refugee population are: Omaha, Lincoln, De Moines, and Sioux City. The foreign-born population is becoming increasingly diverse with immigrants and refugees from the Middle East, Africa, Asia, and Europe, encompassing six percent of Nebraska's population.
We currently have two International Friendship Centers based in Omaha, Nebraska, where our volunteers and missionaries share the gospel with the unreached population and help them in the areas they are needed. Whether that be through English, citizenship, or sewing classes, cultural and social assimilation, distributing food, clothing, or furniture, or simply providing friendship and hospitality.  Learn more about our ministry in Nebraska and how you can volunteer.
Texas
Houston, Texas has the largest population of Muslims in Texas and the Southern United States. Texas embraces the Muslim population with over forty one mosques and storefront religious centers, Muslim student organizations, and halal-certified restaurants. Texas is a great opportunity for us to engage in community outreach and share the the love of Jesus.
In Houston, our volunteers and missionaries help the foreign-born population by building relationships with them, sharing the gospel, and helping them with any needs they may have. This includes, refugee resettlement assistance, cultural and social assimilation, identifying shelter, teaching new skills, helping counsel persecuted converts, and more. Learn more about our ministry in Texas and how you can volunteer.
POBLO Missionary, Julie Aftab
POBLO Ambassador, Rev. David Cecil
---
California
California is home to more than 10 million immigrants—about a quarter of the foreign-born population nationwide. In 2016, 27% of California's population was foreign born, about twice the US percentage. Foreign-born residents represented more than 30% of the population in seven California counties; in descending order, these counties are Santa Clara, San Francisco, Los Angeles, San Mateo, Alameda, Monterey, and Orange. Half of California children have at least one immigrant parent. More than 16,000 immigrants settled in one zip code in Burbank, a suburban city in the San Fernando Valley of Los Angeles, and more than 25,000 new immigrants settled in two zip codes in San Francisco.
The vast majority of California's immigrants were born in Latin America (51%) or Asia (39%). California has sizable populations of immigrants from dozens of countries; the leading countries of origin are Mexico (4.2 million), China (936,000), the Philippines (813,000), Vietnam (534,000), and India (482,000). However, most (58%) of those arriving between 2012 and 2016 came from Asia; only 28% came from Latin America.
The U.S. Religion Census, conducted by the Association of Statisticians of American Religious Bodies, estimated there are 120,868 Muslims living in Los Angeles, Orange, Riverside, San Bernardino and Ventura Counties.
POBLO's mission's coordinator, Yasmin Bhatti is based in the Los Angeles/Long Beach/Anaheim metro area.
Mission's Coordinator, Yasmin Bhatti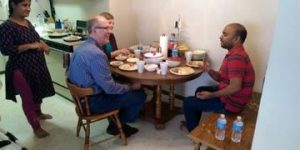 Iowa
Iowa has a small but growing immigrant community, much of which emigrated from Mexico. Nearly 5% of Iowa's population was born in another country, and over 4% of residents are native-born Americans who have at least one immigrant parent. While relatively few in number, immigrants help support Iowa's economy and remain a critical component of the state.  The largest ethnic groups in Iowa are Latinos, Africans, Bosnians and South East Asians.
A small but vibrant segment of the Iowa immigrant population includes immigrants from the Middle East. A large Lebanese population grew in the vicinity of Cedar Rapids brought by a wave of immigration from 1895 through 1945.  The mosque in Cedar Rapids was the very first mosque built in the United States. This is the oldest mosque still in use and is known as "The Mother Mosque."  While Cedar Rapids maintained the largest Lebanese community, other Middle Eastern immigrants found homes in Sioux City, Des Moines, Fort Madison and Fort Dodge.  The 2000 U.S. Census reported that Iowa is home to 4,365 people of Arab descent, including 1,200 in Cedar Rapids, 900 in Des Moines, 450 in Iowa City, 320 in Ames and 315 in the Quad Cities. The largest segments of the population are Lebanese, Syrian and Egyptian.
POBLO Missionary, Tim Bickel
Kansas
Kansas has a small but growing immigrant population. While just over 7% of Kansas's residents are immigrants. There are 63,000 children of immigrants living in the Kansas City region. Immigrants living in Kansas City are mostly from Mexico, India, China, Kenya, Honduras, Philippines and Guatemala.  The religious composition of adults in Kansas is non-Christian faiths 4%, Jewish 1%, Muslim 1%, Buddhist 1%, Hindu 1%, Other World Religions 1%, Atheist 2% and Agnostic 3%.
Mission's Coordinator, Philomena Sadiq
Ohio
Ohio is home to a growing community of immigrants. While about 4% of residents are foreign-born, one in six Ohioans working in the sciences is an immigrant.  As workers, business owners, taxpayers, and neighbors, immigrants are an integral part of Ohio's diverse and thriving communities.  In 2015, 503,911 immigrants (foreign-born individuals) comprised 4.3% of the state's population.  Ohio is home to 234,117 women, 223,728 men, and 46,066 children who are immigrants.  The top countries of origin for immigrants are India (12.4%), Mexico (8.7%), China (7.1%), Germany (3.5%), and Canada (3.2%).  In 2016, 514,536 people in Ohio (4.5% of the state's population) were native-born Americans who had at least one immigrant parent.
In the Dayton/Kettering area, missionary Adreel George is involved in missions and community engagement through various efforts. Ohio's first International Friendship Center (IFC) is now open and volunteers teach English and cooking classes, computer skills to job interview prep to new immigrants and refugees. In Dublin, POBLO missionaries Joseph & Heba Beshai together engage in street Evangelism and provide Bible studies and discipleship for new Christians.  They are also in the process of opening an International Friendship Center (IFC) in Dayton, which will provide free English, cooking, sewing classes.  They will also provide food, clothing, and furniture distribution to refugees in need.  Contact us today to see how you can join us in helping people in Ohio.
POBLO Missionaries, Adreel George, Joseph & Heba Beshai
Indiana
Upcoming…
POBLO Ambassador, Deen Albert
Illinois
Upcoming…